The Stutz family is very excited to be sending season's greetings from a new part of the world (for us!).  After four fabulous and rewarding years at the American School of Bombay, it was time to move on and explore another part of the planet.  In mid-January, we accepted jobs in sunny Jakarta, Indonesia at the Jakarta International School.
It was harder than we expected saying good-bye to India and all our friends and colleagues at ASB; not one of us was dry-eyed boarding the plane in June.  A summer of family and travel brightened our spirits and prepared us for new adventures in Indonesia.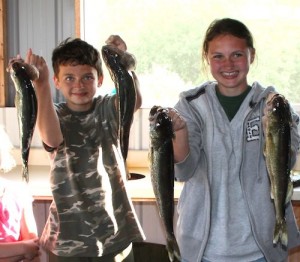 We started off the summer in our "new home" in Minnesota, and got right to the serious business of supporting the American economy. Perennial early highlights of our vacation include shopping in Target, chowing down at Denny's, and playing trivia at Buffalo Wild Wings. This year was doubly special, as we also had the chance to get together for a lunch with Dave's sister and family, who were in Minnesota visiting their family farm.
Susan's parents celebrated 50 years of marriage this year, so all five families trooped off to Canada for a week of fishing, playing, laughter and love.  The phrase 'double double' still emerges in our home in reference to fabulous fishing: two people, two bites, two fish in the boat and then two minutes later… two people, two bites, two fish in the boat…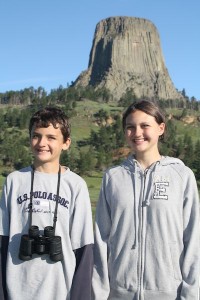 Leaving Canada, Susan immediately flew to New York to attend a reading conference, so Dave and the kids took off through Canada to spend a week at the cabin in Rimini. They had an epic journey on the trans-Canadian highway across 4 provinces, and then swung down through Montana and back across to Minnesota. They went through 4 national parks & monuments (Glacier, Little Big Horn, Devil's Tower, and Mount Rushmore), spent quality time with the Montana Stutz's, and survived "roughing it" with each other in the very best of spirits.
End of July brought us to Jakarta and we have been busy settling in ever since.  At JIS CIL, Dave teaches 6th grade math and at JIS PEL Susan teaches 1st grade.  Alea is now in high school (with a campus that prepares her for any university in the USA!) while Breck rocks the 7th grade.   We have a lovely, old home in the suburb of Cilandak.  After years in a tiny apartment in Bombay, we are free and easy with single-floor living, a huge lawn and a pool!  We were welcomed to the house by rats who had taken up residence, so Dori and Linsea soon joined the Stutz family as honorary four-legged members.
Alea has adjusted well to high school.  She is taking Spanish III, Physical and Life Science, Asian Studies, Algebra and Geo II, English 9, Concert Band and PE.  She is actively involved in a Gerakan Kepedullian (ask her) service-learning club and LOVES her rock climbing every Monday after school.  She went to Monado for a week of service learning and planted trees at the base of a volcano and removed Crown of Thorns from a local reef.
Breck has Algebra, Science, Drama, PE, World Studies, English, French and Band.  He joined baseball, basketball, softball, and track and field (top 5 in long jump AND javelin at the meet – a huge accomplishment given the size of the schools competing!!).  He also joined an animal rights service club and is supporting the animal aid network where we got Linsea and Dori. Rumor has it he also landed a role in the Middle School drama production for 2nd semester!  Slowly but surely, both kids have made new friends among the 2,500 students here.
After adjusting to a new country, new city, new house, new school, new colleagues, and new friends, we thought we needed something familiar for October break, so we returned to Bali for a week of fun in the sun.  We spent 3 days in Ubud getting our fill of culture and then continued on to Pemuteran Bay so Dave could actually snorkel the scene given he couldn't last time we were there (because of the infamous monkey attacks!).  We went to Mengangan Island reserve and had a fabulous day of snorkeling – we saw sea turtles, clown fish, jellyfish, hard and soft coral and…  a wonderful day!
December holiday fever has begun as we prepare to go on our first tour around our new host country.  We head off to the Gili Islands near Lombok on the 18th.  All four of us will get PADI open-water diving certified.  Wish us luck!  We'll also spend a few days driving the interior around Gunung Rinjani, Lombok's largest volcano.  We'll fly back to Jakarta for the New Year and then go to Yogyakarta, the cultural capital of Java.  Our main plan there is to climb the temple ruins of Borobudur and Prambanan.
Dave's Grandma, Mildred Robison Stutz, died just last month.  She had a long and wonderful life and we celebrate her memory as we head into the holidays.  She was a delightful part of many of our summer trips out West; we are fortunate to have had her in our lives as long as we did.  Dave's brother, Rob Stutz, is running for Congress for the state of Montana.  Sisters Karla and Shari have helped run, manage, and negotiate an active campaign. We wish him all the best and firmly believe he is the best candidate for the great state of Montana!
We continue to be blessed as a family – we have so much for which to be thankful – and we are!  We send forth all our best wishes to family and friends for a safe, joyous, and wonderful holiday season and 2012.