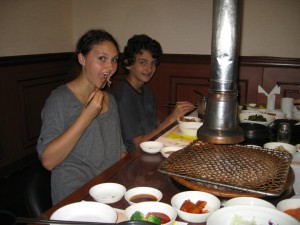 Susan and I worked in Korea long, long ago, and I fell in love with the food. I was really lucky to have 2 Korean kids travel with me to the Mathcounts competition, and we chowed when we stopped over in Seoul on the way back.
One of the families wanted to take us out for dinner, and set things up at a local Korean restaurant (according to all reports, the best in Jakarta). Unfortunately, Susan was still feeling the effects of her food poisoning from this weekend's adventures, and so had to sit this one out. Alea and Breck, however, were true risk-takers and joined me for their first-ever taste of Korean food.
(As an aside, I have a sign Breck made for me when he was about 4 years old with a big red "X" drawn over a red and green squiggle with the caption "This is a no-kimchi zone." So I've known for a while where their taste bud loyalties were!)
Once we showed up, and all the little side dishes were brought out, however, they really were good about trying things. Our particular meal was very light on the seafood, which I think made things easier, and by the time the barbecue was lit up at our table, Alea was in heaven.
We ate and ate and ate (with Breck experiencing some measure of a learning curve on the chopsticks), only to find that the "meat" portion of the meal was to be followed by the "dinner" part – and we were already stuffed! We enjoyed some noodles and rice, and then rolled ourselves on home. I was very pleased with the way the kids tried things they'd never had before, and I foresee some Korean food in our future (at least for Alea and me!).