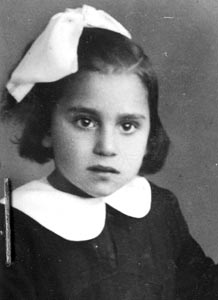 My mother – Breck's Grandmother – was born in the tiny Greek village of Spartia. It is a farming community, sitting high on a foggy mountain that overlooks the valley where the famous town of Sparta lies. She always said that her people were the toughest in the world – that they had been bred that way – and that history would always remember the strength of the Spartans. She spent her childhood as the daughter of the village priest, running barefoot through the cobblestoned streets, playing with the herds of goats that would wander through, and climbing the fig tree in her family's yard.
She told me that her earliest memories were of airplanes and hiding, as her country was at war when she was born (during World War 2). It had been invaded and taken over by larger countries, and then fell into a terrible civil war that lasted for another 4 years. Because of her father's position of authority in the village, however, her family was relatively safe from the horrors that took place around the country.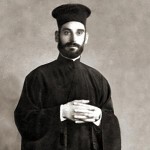 Since Greece had suffered terrible destruction as a result of these wars, however, her family began looking for another place that would provide an opportunity for a safe future. When she was 12, my mom boarded a ship with her grandmother, mother, father, and three brothers, and started the long journey that brought them to the USA. She sailed in to New York harbor, where she saw the Statue of Liberty like so many other immigrants.
Her family took an apartment in New York City and started a new life. As sometimes happens with people who migrate, the pressure of adjusting to a new country, culture, city, and language was too much for my grandfather, and he returned to Greece. The rest of her family, however, stuck things out in the USA, learned English, and eventually they all graduated from high school. My mother actually dropped out for a little while, took lessons in typing and doing secretarial work to get a job, but did eventually finish night school to get her diploma. For several years she was a secretary in a law firm, supporting her family.
My father's upbringing was quite different. His family had emigrated from Europe to Canada several generations before he was born, and he grew up on a farm in Provo, Utah, USA. His father, who moved to Utah as a boy, was finishing up his education to become a professor at the local university. As a result, my dad lived in the same peaceful setting for all of his growing-up years, and had never considered the notion of himself being an immigrant or moving anywhere in the world.
When he graduated from high school, however, the USA was involved in a war in Vietnam, and every eligible young man had to join the military. He became a member of the Marine Corps, and thought for sure that he would be shipped out to take part in the fighting. As things turned out, however, he was selected to become one of the soldiers that guards the embassies around the world – a very lucky assignment.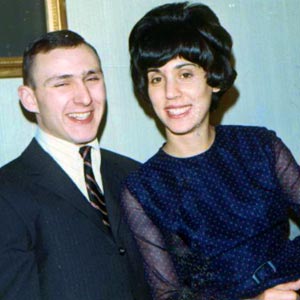 Meanwhile, one of the lawyers that my mother worked for thought she should get a job as a secretary with the US government. After all sorts of tests and applications, she was hired and sent to work – but not in Washington DC, where most of the government buildings are. No, she was sent to go work in Stockholm, Sweden, at the US embassy. And guess who she met there? That's right, the new Marine guard, who had traveled all the way from the western USA to meet this dark eyed, black haired Greek – in the middle of blond-haired blue-eyed Scandinavian Sweden!
I love this story of my mother's immigrant experience, simply because it has so many elements of why people move and how they deal with the tough times life throws at them. She was raised in a war zone, steamed across the ocean past Ellis Island into the largest city in the world, worked hard through family difficulties to help her siblings and parents, and earned a spot in a line of work that sent her to other countries as a representative of the USA: where she met the boy from the farm in a far-off town. She married that Marine, had 4 kids, and eventually took them to live around the world as well: Germany, Jordan, Honduras, England.
Her oldest son ended up having kids of his own, and even took them to visit her village. Even though we didn't speak each others' languages, we were still able to track down her family and meet long-lost cousins who still live there. We have since moved to India, yet another migration in this continuing story that stretches back to the mountains of Greece.